Only Multi Flask Hydration Systems deliver essential hydration what, where, when and how you need it.
Enjoy the 6-in-1 infusion bottle today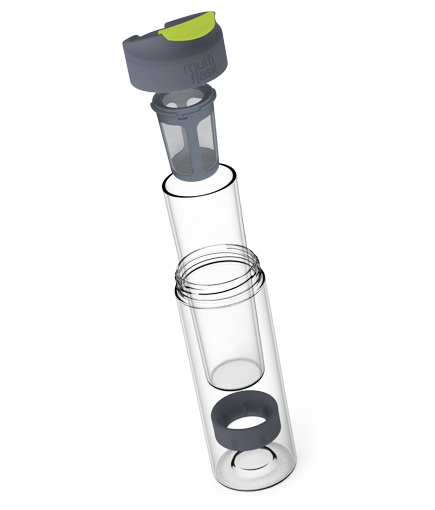 What others are saying
I always add essential oils to my tea for flavor and their health benefits. The Multi Flask glass insert is perfect to withstand the heat of the water as well as the oils which do not work well with plastic bottles.
Well Multi Flask allows you to enjoy all of your favorite beverages in the convenience of one super cute, super functional bottle.
One of the most exciting features of Multi Flask is that for the first time there is a viable way of using glass on the go
It is the ideal flask for endurance athletes.Basically, take your kitchen on the go! (In other words, a gift idea for the frequent traveler.
Hot, cold, brewed or shaken, the Precidio Design Multi Flask is the ideal way to enjoy your favorite drinks on the go.
The Multi Flask is a multipurpose 6-in-1 bottle used for all your hydration needs. This system is really amazing. You can drink hot or cold drinks, infused beverages, insulated (hot or cold), fruit infused beverages and powered beverages.