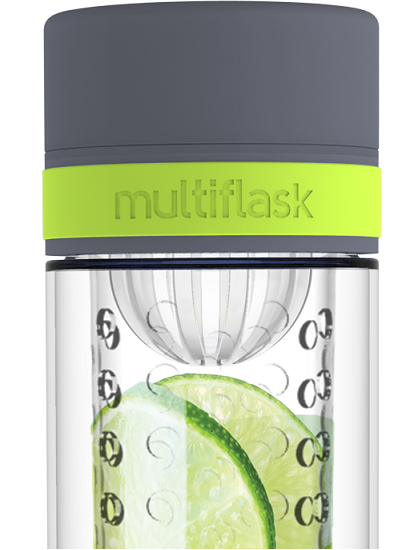 What, Where, When &
How You Need it.
Accessories That You Can Add & Replace Separately
STAINLESS STEEL
We only use high quality food-grade 18/8 Stainless steel in our double walled, vacuum sealed bottles. Multi Flask then has our trademark durable and beautiful powder-coated white finish, which resists scratches, looks beautiful, and is highly decorative. Giving you 24 hours COLD and 12 hours HOT thermal heat retention.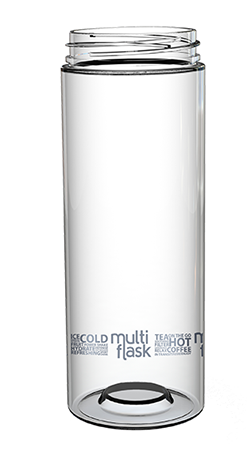 TRITAN OUTER
The Tritan™ outer is common for all drinking options. Made from Eastman Tritan™, a proven polymer that delivers superior clarity and toughness. It's ideal and rugged enough to exercise with you.
Tritan™ is BPA free so it fits in with your healthy lifestyle choices. The outer layer is designed with a wide mouth opening that is ideal for adding ice or fruit wedges. It's dishwasher safe TOP RACK ONLY and is the industry standard for durability.
The Tritan Outer has a 22oz. capacity. Dishwasher safe.
TRITAN INNER
Just like the outer shell this inner shell is made from Eastman Tritan™.
It allows you to have an insulated drink with an inner shell that will not break. It can be used for both hot and cold drinks. Dishwasher safe – TOP RACK ONLY.
The Tritan Inner has a 13oz. capacity. Dishwasher safe.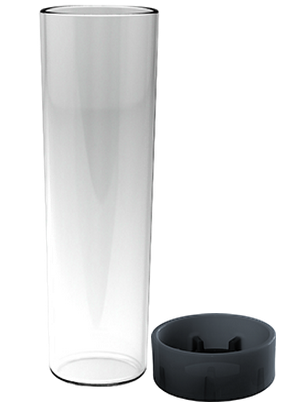 GLASS INNER
This unique inner layer is made from borosilicate glass. Glass is the best material for drinking because it's inert, nontoxic, chemical and BPA free and does not transfer any taste to the drinks it holds. Glass also keeps drinks hotter longer. Additionally the outer layer protects your hand from the heat of the beverage. It's a true double wall solution.
The glass Inner has a 11oz. liquid capacity. Dish Washer safe.
To keep the glass safe we have designed a silicone bumper that acts as a shock absorber. Dishwasher safe.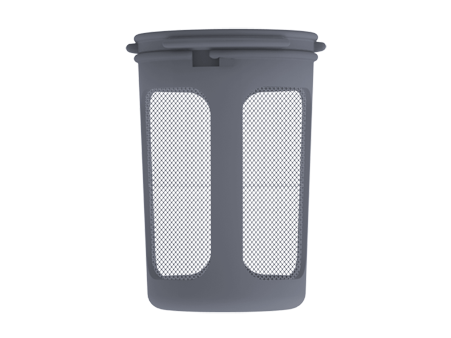 TEA/COLD BREW COFFEE INFUSER
Our new fine-mesh basket Tea / Coffee infuser now lets you use fine grind teas, as well as coarse. For tea you want to leave in the water, put it either in the main chamber and use the infuser to filter when you drink, or for Black teas, put them in the locking infuser and remove when you are ready. You can also make COLD BREW coffee, by leaving the coffee in the infuser for 12-24 hours in cold water!
Dishwasher safe, top rack only.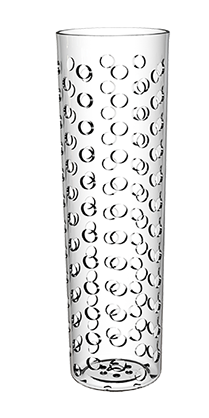 FRUIT INFUSER
Made from Eastman Tritan™ this unique attachment allows for fruit infused drinking. Cut fruit or vegetable slices fit inside the infuser. As water or liquid passes through it is infused with the taste of what is inside the infuser. We recommend using the agitator to keep fruit and vegetables pieces contained.
Dishwasher safe, top rack only.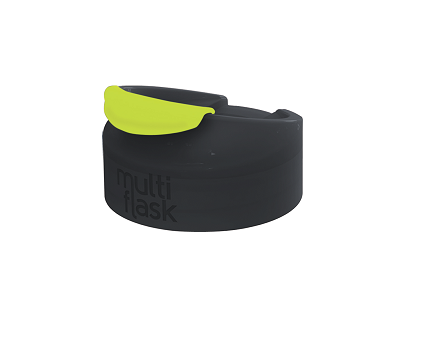 SIPPER LID
Made from Polypropylene the sipper lid is well designed and functional. The flip lid function keeps drinking area clean so that your lips are the only things touching it. The addition of ventilation holes make sure of constant flow while you are drinking. The lid is spill proof.
Dishwasher safe, top rack only.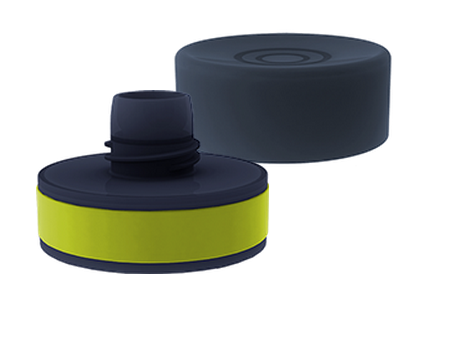 SPORTS LID
Made from Polypropylene. it comes in two components, a top and bottom lid. The top lip pops off and on to keep the bottom lid protected. The bottom lid has a strong and leak proof construction. The drinking portion of the lid is made from 100% pure silicone, ideal for running and working out with no danger of tooth chipping.
Dishwasher safe, top rack only.